04-28-2023
6 min read
Peer-Reviewed
Our writing team evaluates each article for accuracy and ensures that sources are reliable and trustworthy.
Up-to-Date
We regularly review and update our articles to ensure relevancy and quality. This article was most recently updated on 05-19-2023.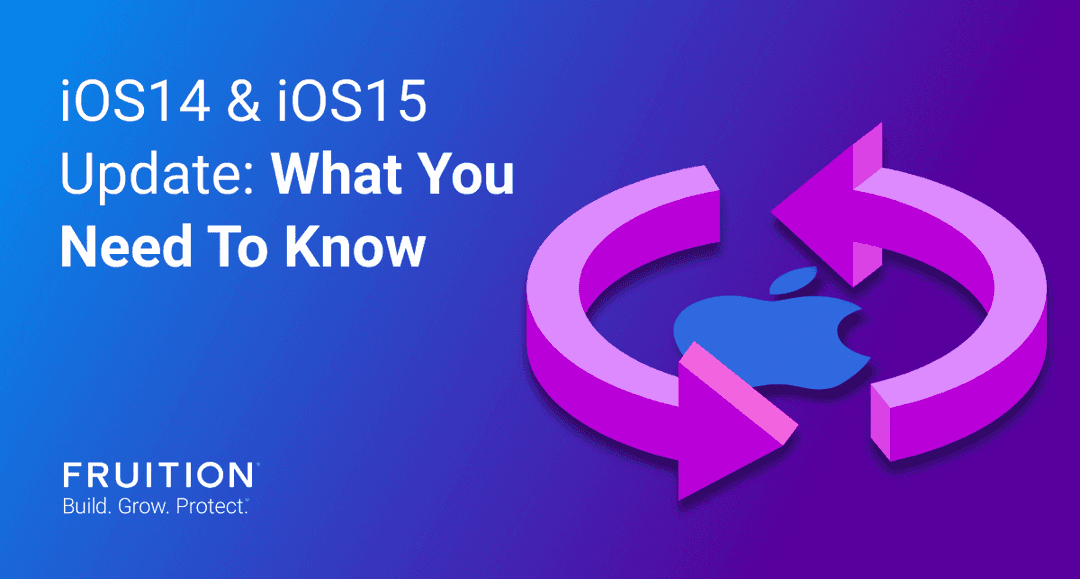 How iOS14 & iOS15 impact your digital marketing campaigns
With Apple's iOS14 update earlier this year - and a recent iOS15 update - we're seeing a lot of changes to marketing efforts across platforms. These updates have largely impacted data collection, requiring companies to be more intentional about the information they collect. Here's what you need to know about the iOS14 and iOS15 updates, and how they impact your marketing strategy.
What Is The iOS14 Update?
Before the iOS14 update in April 2021, apps had the ability to track users across various apps and websites for advertising purposes. Under this update, however, apps must explicitly ask users to opt-into data tracking, with users receiving the following message: "X would like permission to track you across apps and websites owned by other companies. Your data will be used to deliver personalized ads to you." Users then choose between "Allow Tracking" or "Ask App Not To Track."
How Did The iOS14 Update Impact Marketing Strategy?
The biggest impact was felt with Facebook Ads.Companies saw a decrease in the amount of data they're able to collect. This impacts the ability to create efficient, custom audiences - and therefore, conversions may decrease and will likely become more expensive. Additionally, the attribution window moved from 7-day click-through and 1-day view to 7-day click-through only. Finally, reporting became more delayed, aggregated, and limited.
How Can I Limit The Impact Of The iOS14 Update on Facebook Ads?
While the iOS14 update certainly presents a major challenge to your Facebook Ad strategy, there are some concrete steps you can take to limit its impact. For example:
Verify your domain. If your domain is not verified, you will not be able to edit your domain's conversion event configurations
Set up your conversion events. Users are now limited to tracking up to eight conversion events per domain. Choose which events you want to prioritize and stick with them
Prioritize ad sets. Review and consider replacing ad sets that are outside the top eight selected events
When setting up landing pages for ads and tracks, stick with a single domain. Existing ads will be paused if Facebook is unable to determine the advertiser's preference or if advertisers do not choose the domain on which to track events
Enable value optimization. Allow advertisers to bid for the highest-value users, or those who are most likely to complete a desired website action
How Does the iOS14 Update Impact Google Ads?
Here's some good news: Google isn't as directly impacted by the new iOS policies! Still, advertisers should be prepared for some changes:
Performance fluctuation: You should probably expect fluctuations in delivery and performance on ad campaigns that run on iOS. Search ad performance should not be affected, but Google Display, Discovery, and YouTube campaigns using interests-based targeting will see a data loss and performance decline
Enhanced conversion modeling: To mitigate the effects of these changes, Google will be enhancing their 'modeled' conversion metrics. Google already models conversion events for some cross-device and view-through conversion
Ultimately, the iOS14 update presents some significant changes and challenges to companies. But by taking a few concrete steps to bolster your marketing strategy, you can help limit the impact of the update.
What Is The iOS15 Update?
The iOS15 update expands upon the user privacy protections implemented in the iOS14 update. But whereas the iOS14 update presents a challenge to marketers by limiting mobile app tracking, the iOS15 update could significantly impact email marketing. Among other features, the iOS15 update implements a free Apple Mail privacy feature that will prevent senders from knowing when someone opens an email. Additionally, the update masks IP addresses, so users can't be linked to other online activity.
How Will The iOS15 Update Impact Email Marketing?
While Apple Mail users will be given the option to opt-into these new changes, chances are nearly every user will choose not to do so. Upon updating, users will receive two options from Apple: "Protect mail activity - hide IP address and privately load all remote content" or "Don't protect mail activity - show IP address and load any remote content directly on your device." So it's safe to assume that a huge majority of your email list will be impacted by this update. And that's going to impact a major email marketing metric: open rate. With the iOS15 update, Apple will now measure open rate by the number of emails received, not the number of emails opened. What does this mean for your email marketing? Mainly, that you'll have to find another metric for measuring email engagement.
How Can I Limit The Impact Of The iOS15 Update?
The iOS15 update definitely presents a hefty challenge to email marketing. However, there are a few steps you can take to mitigate the impact of the update, including:
Leveraging different data: While you might now struggle to tell which subject lines are working or who your active subscribers are, you now have an opportunity to reimagine your email engagement metrics. Sure, open rate was previously a great measurement, but you can still leverage clickthrough rates, size of your email list, survey data, and visitors to your website to determine email engagement.
Rethinking subject line A/B testing: Previously, you could test two different subject lines and measure for open rate, then proceed with the best performing subject line. But since you can no longer measure open rate in a meaningful way, it's probably time to rethink how you use A/B testing for emails. You can still use A/B testing for email content and measure clickthrough rates to determine which content best resonates with your subscribers.
Gathering more first-hand data: Since you'll have to rely less on data collection from open rates and activity tracking, you might want to consider collecting more information on individual subscribers. For example, you could collect more information at the point of sign-up, the better you can cater to a subscriber's individual preferences.
The iOS15 update presents a pretty big challenge for email marketers. But by rethinking metrics and reimagining data collection, you can adjust to the update and possibly improve both deliverability and engagement. Concerned about how the iOS14 and iOS15 updates will impact your marketing efforts? Reach out to the marketing team at Fruition! Our marketing specialists can help you develop a strategy that will weather the proverbial iOS update storm.