04-25-2023
6 min read
Peer-Reviewed
Our writing team evaluates each article for accuracy and ensures that sources are reliable and trustworthy.
Up-to-Date
We regularly review and update our articles to ensure relevancy and quality. This article was most recently updated on 06-19-2023.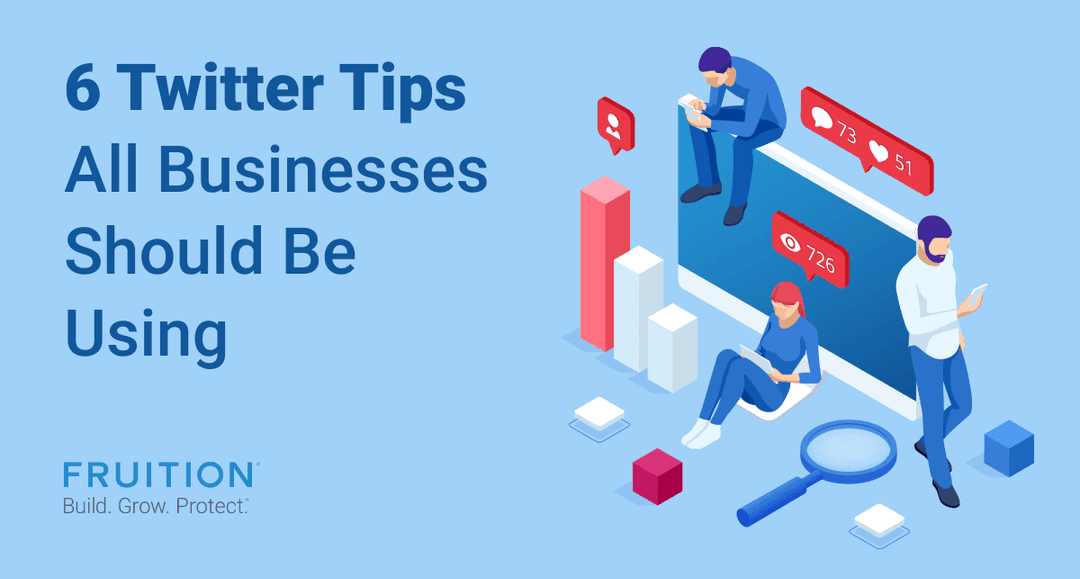 6 Twitter Tips All Businesses Should Be Using
Use these six tried and true Twitter optimization tips to clean up and then amplify your voice on everyone's favorite ranting platform.
TL/DR Twitter Optimization Tips
To effectively utilize Twitter for business purposes, consider these three essential tips:
Engage with your audience: Regularly interact with your followers, customers, and potential clients. Respond to their tweets, answer their queries, and retweet or like their content when appropriate. This will not only help establish your brand's presence but also foster strong relationships with your audience. Participating in Twitter chats and using hashtags relevant to your industry can further amplify your engagement.
Share valuable content: Post informative, engaging, and valuable content that resonates with your target audience. This can include industry news, blog posts, tips, promotional offers, behind-the-scenes insights, and multimedia content such as images, videos, and GIFs. Sharing content from other reputable sources is also a good way to establish your brand as a thought leader in your industry. Make sure to maintain a healthy balance between promotional content and content that provides value to your followers.
Optimize your profile: Ensure your Twitter profile is complete and professional. Use a high-resolution logo as your profile picture, create a compelling header image, and write a concise bio that effectively communicates your business's mission and offerings. Include a link to your website or a specific landing page to drive traffic. Regularly evaluate your profile and make necessary updates to keep it fresh and relevant.
Twitter 101
Remember, consistency is key. Maintain a regular posting schedule and continuously analyze your Twitter analytics to refine your strategy and achieve better results. 1. Optimize your profile - Use a professional profile picture and banner image that represent your brand. 2. Fill out your profile bio with a clear and concise description of who you are and what you offer. 3. Follow the right people to shape your profile's identity. 4. Use advanced search to find new content ideas. 5. Create and manage highly curated groups of accounts. 6. Drive engagement with your own Tweets.
Twitter Tip 1: Optimize Your Profile
Optimize your profile to clearly express who you are as a company. This includes adding a profile picture that can easily be associated with your brand and is in line with your other social media profiles. Then, create a custom Twitter header image that's formatted with the right dimensions: 1500px x 500px. An unformatted picture can cut off your messaging, cover up important brand information, and in general, make your profile look unpolished and unprofessional.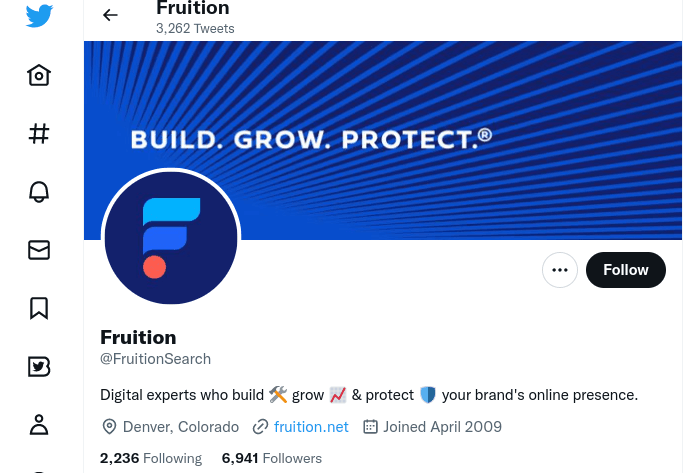 Twitter Tip 2: Optimize your profile bio
Keep it concise: Your Twitter bio should be a maximum of 160 characters, so make sure to keep it concise and to the point. 2. Use keywords: Include relevant keywords to help potential followers find your profile. 3. Showcase your personality: Be sure to give a good impression of yourself in your bio. Let your followers know what makes you unique. 4. Add a link: Include a link to your website or other social media profiles, so that people can easily find out more about you. 5. Include a call to action: Let people know what you want them to do after reading your bio. Do you want them to follow you, contact you, or learn more?
Twitter Tip 3: Follow The Right People
Follow competitors, industry leaders, and users within your community. By following the right people, you can stay up-to-date on the latest news and trends in the industry, keep tabs on the competition, and learn about trending hashtags that are relevant to your brand. However, following others is a balancing act. Don't start following too many people at once; Twitter may view this as "bot-like" or "inauthentic" behavior and suspend your account. In addition, try to keep your following to follower ratio positive (meaning your number of followers is greater than the number of people you're following). Keeping this ratio positive improves your authority ranking, which is an important indicator of your success on Twitter's algorithm. As a result, more users will see, find, and follow your content.
Twitter Tip 4: Use Advanced Search
Monitor mentions, research content ideas, and find your next customer using Twitter's advanced search tool. The tool allows you to drill down into very specific content for a reason - use it! For example, if you run a dental practice, you could use the tool to curate a list of every tweet posted by people in your city. You can then drill down further to find the phrase "dentist" or "who can recommend a dentist?" From there, you can reach out to users and invite them to set up an appointment.
Twitter Tip 5: Create And Manage Lists
To maximize Twitter for your business and improve your experience on the platform, get organized by setting up and managing managing lists on Twitter (curated groups of Twitter accounts). Create lists for things that make sense for your business, like influencers, industry leaders, competitors, customers, and employees. By organizing your lists like this, you can quickly and effectively view and engage with tweets that matter most to you while cutting out clutter from your feed. Once you set up your lists, continue to develop and evolve them as your Twitter account grows. Screenshot of twitter lists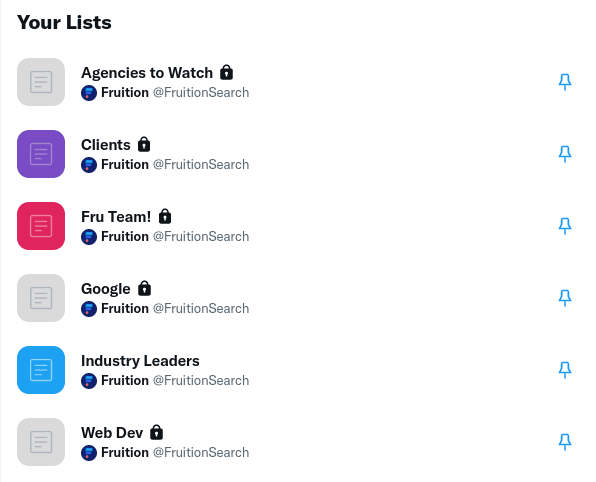 Twitter Tip 6: Engage with your own Tweets & Mentions
Engage often with your own tweets and mentions - including liking and retweeting your own tweets. The Twitter algorithm grades each tweet in terms of popularity, so the more likes and re-tweets a post has, the more likely it is that your content will be shown to more users. Although liking and retweeting your own content isn't weighted as heavily as other users' interactions with your post, every engagement counts towards maximizing your brand's exposure on the platform. Whether your company has tried Twitter and you want to perfect your strategy, or you've never used the tool and you want to dip your toes into the water, give us a call. Our social experts can help you develop and refine your strategy to grow your account.
Bonus Twitter Tip Summary