04-26-2023
4 min read
Peer-Reviewed
Our writing team evaluates each article for accuracy and ensures that sources are reliable and trustworthy.
Up-to-Date
We regularly review and update our articles to ensure relevancy and quality. This article was most recently updated on 05-07-2023.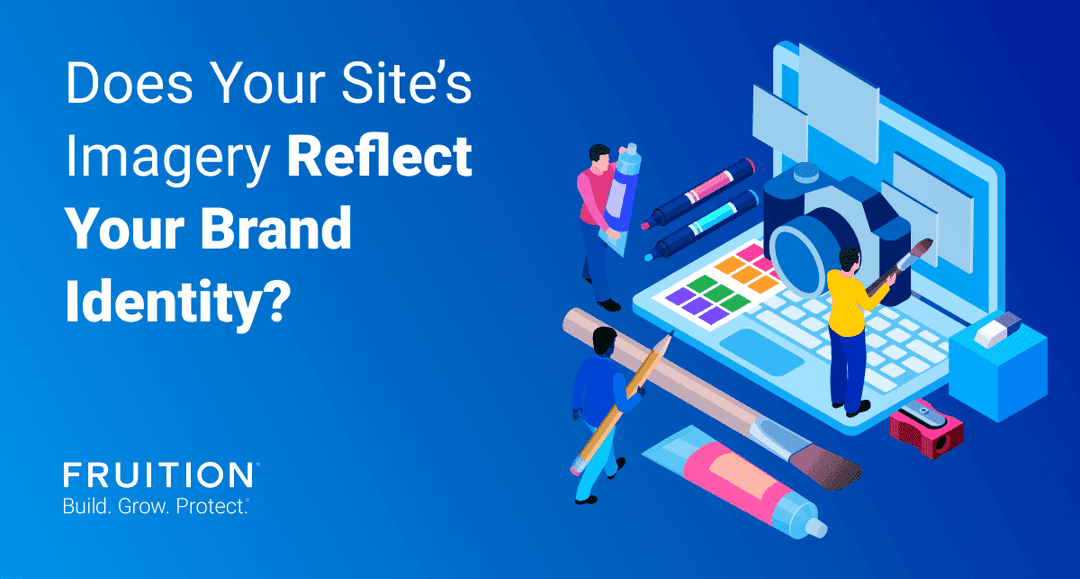 Does Your Site's Imagery Reflect Your Brand Identity?
As the old adage goes, "a picture is worth a thousand words." Considering the average site visitor bounces from your website in less than 15 seconds, the imagery you use must demand attention, tell your brand story, and encourage engagement. By exploring different types of imagery and understanding the visual impact your choices have on users, you can create a more interesting, inviting experience for site users – which can result in increased trust, loyalty, and conversions. Read More: How To Choose A Color Palette For Your Brand's Website
Types Of Website Imagery
Your site can visually tell your business' story in many different ways. The most common types of site imagery include:
Photography: The go-to for most sites, photography is always a good option, especially for sites that want to show a human connection. Try to avoid overly "stocky" images – original photography always conveys more authenticity and trustworthiness.
Illustrations: If you want to visualize how humans interact with and use digital products, illustrations are a good solution. Many SaaS companies, like Hootsuite or Mailchimp, use illustrations in addition to screenshots to add visual interest to their site.
3D Renders: 3D renders are great for visualizing physical products. Flat artwork can also be mapped to 3D renderings to create 3D product images, eliminating the need for costly and time-consuming product photoshoots. You can create photo-realistic designs and interesting 3D "backdrops" for product imagery using tools like Adobe Dimension.
Icons: Icons are simple representations of concepts and can be used in a variety of applications. Icons are available in a large number of styles, including solid, lined, color, and 3D.
How do you Determine Your Site's Imagery?
Your site's imagery should be closely related to your color palette and logo design, especially if you're a newer brand. Typically, larger, more established brands can take bigger risks when it comes to imagery and color. For example, Dropbox and MailChimp have recently rolled out some daring color palettes and visual imagery. As established brands, these companies can afford to take bigger risks when it comes to visual identity. If you're still developing your brand's visual aesthetic, create a mood board with your brand's logo, color scheme, and several examples of imagery. By examining each visual aspect side-by-side, you can begin to create a cohesive visual story.
Why Is Site Imagery Important?
Effective use of imagery has many benefits:
Conveys a sense of trustworthiness
Creates a strong connection to the brand
Adds visual interest to the design
Creates a memorable experience
Conversely, ineffective imagery can create a lack of trust, creates a weak connection to the brand, and makes your site boring and forgettable to users.
Examples Of Great Brand Imagery
To inspire your project, we've compiled a few sites that use imagery exceptionally well:
Fisher-Price: Fisher-Price's site is bright, playful, and fun – just like the brand. Authentic photography, whimsical icons, patterns, and animations come together to create a visual identity perfect for children's toys.
Formula1: The site showcases the brand's bold fonts and colors. Combined with high-quality photos, lines and patterns, and memorable track illustrations, the site perfectly captures the adventurous spirit of the sport.
Chobani: With contemporary photography and typography, and playful icons and illustrations, Chobani's site visually positions the brand as a fresh, fun, and nutritious option.
With just 15 seconds to capture users' attention, perfecting your site's imagery is crucial. By aligning your site's visual story with your brand identity, you'll gain trust, build a connection with visitors, and create a positive and memorable site experience.