04-26-2023
6 min read
Peer-Reviewed
Our writing team evaluates each article for accuracy and ensures that sources are reliable and trustworthy.
Up-to-Date
We regularly review and update our articles to ensure relevancy and quality. This article was most recently updated on 05-09-2023.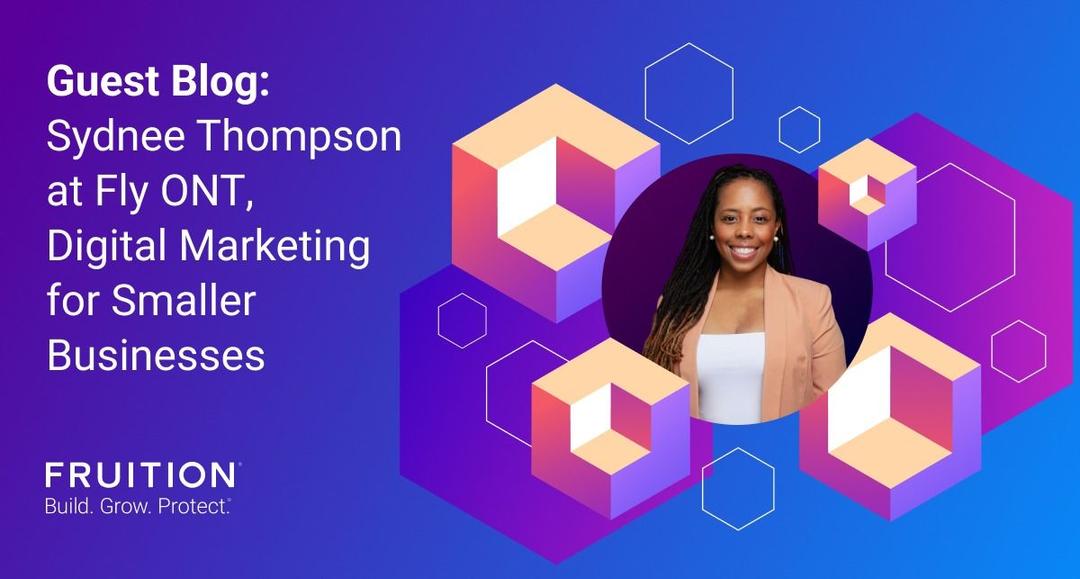 Digital Marketing For Small(ish) Businesses
At Fruition, we love educating our clients on the ins and outs of digital marketing strategy and more, but sometimes we get lucky and our clients are already experts in the field. Case in point, Sydnee Thompson who oversees Digital Media for our client Ontario International Airport. Sydnee is not only a fantastic marketer for @FlyONT – she also owns and operates a content marketing consultancy of her own, Digital319. We asked her to give us her top tips on social, specifically for small businesses. As a small business owner or entrepreneur, the list of roles you fulfill to keep your passion afloat is endless. And somehow, amid owning, managing, financing, and growing your company, you're supposed to have a perfectly curated social media presence online…right? HA! It might seem like a lot of work, but 96% of small businesses use social media in their marketing strategy, and with its strengths in reach and exposure, that's a no-brainer. Use the tools social platforms provide, like their corporate blogs or in-platform accounts (ex. @instagramforbusiness), to stay up to date on features, analytics and how you can position your company best across that particular network. Related: 5 Tips for Creating a Cohesive Instagram Feed I've spent most of my time as a Social & Digital Strategist over the last 9 years crafting, implementing, and executing successful content marketing and digital strategies for brands large and small. Over the last year, as the owner of my own content marketing consultancy, I've become well acquainted with the struggles of staying above the social media waters for my brand while managing my business, my clients, and my team. With all the hats we wear as business owners, it's no easy feat to stay consistent with our brands' social media. Here are five social media strategies that keep me grounded as I'm planning content, and I know they will work in your favor, too.
1. Be Intentional With Your Social Media Feed
Thinking about what you want to post today for today is not strategy. In order to strategically publish content, you must plan content. Whether it's on a Sunday before your week starts or on a no-meeting day during the week, set 3-5 hours a week to work on ideas & content for your channels. Sharing impactful, engaging, and conversion-focused posts with your audience takes dedicated planning that involves brainstorming, mapping out executions, and then creating the content you plan to deliver.
2. Social Media is a Two-Way Street
The first word of this communication type tells us all we need to know, as consumers & business owners, about how we should use this medium… SOCIAL. This space is a two-way street, especially for brands & business owners. TV, newspaper, and radio are all one-way streets. They speak at us, not with us; we can hear from them, but we can't communicate back to them. Social media is different. It's an ever-evolving territory. You cannot afford to "post & ghost"—don't just post and then leave the app without engaging with your audience or your feed. In short, when it comes to your online audience, do all the things: reply to comments, answer direct messages, engage with their content, share their relevant content in your stories or feed, poll them on key topics surrounding your business or industry, give them a sneak peek into your life wearing another hat (parent, traveler, yoga junkie), etc. Social media is a shared community between your customers/clients and you. Use that to your advantage.
3. Find, Build, & Be Your Audience
Before starting your business, how much thought did you put into who your business would serve or benefit? How do they communicate with your brand? Where are they…physically and digitally? Your audience is the glue between why your brand exists and how your brand will continue to thrive. Keeping this community at the core of your product/service decisions, content creation, platform presence, brand voice and tone, and so much more within your social strategy is non-negotiable. Once you've identified this audience, where to find them, and how to reach them, don't think of them as a group you're not a part of. The best brands, large and small, are successful because they've learned how to "be" their audience. Don't talk at them or make for them, but truly BE THEM and reflect that throughout all executions.
4. Don't Believe the Hype—Social Media Is About Your Audience
How many times have you been told, "tHe PeRFeCt fOrmUla" for being successful on social media is posting 5-7 posts, 2-3 reels, 6-12 stories, etc. a week? Or something similar? Don't join the rat race. Don't believe the hype. Don't do it all, just do what works. There is no way you can commit to outrageous post quantities while running your business. Focus instead on posting content that is beneficial for your brand and your audience. Study & apply your insights, and develop a relationship with your audience and how they engage with you. At the crux of these two key steps, you'll find the post frequency that makes sense for your brand.
5. Track Your Progress With Insights
Remember when I said social media is a two-way street? Well, that two-way street also has shoulders on the side. And those shoulders = your analytics. Before and after publishing (on a set frequency…weekly, monthly, per campaign, etc.) it's a must to check out your insights. To publish and not engage is bad. To publish & engage and not track your performance is all bad. Let's aim for the good. How do you know what resonates with your audience? How do you know when to post for optimal engagement or reach? How do you know the demographic and psychographic makeup of your followers? One word: insights. Map out what key performance indicators (KPIs) matter to you (comments, shares, visits to your website, etc.). Make a habit to frequently check your insights and compare them, weekly, monthly, etc. to find content opportunities and improve your connection with your community. These same gems can be applied to the management of your website or blog—try them out there as well. Wherever you are in your business journey, I hope these tips replace stress with strategy and confusion with confidence. You got this! —Syd Sydnee is such a brilliant marketer and a wonderful client. If you're not sure where to start with your own social media marketing, start with Sydnee's tips, and then give us a call. Here at Fruition, we're always happy to help your business grow, big or small, no matter what industry you're in.