04-28-2023
5 min read
Peer-Reviewed
Our writing team evaluates each article for accuracy and ensures that sources are reliable and trustworthy.
Up-to-Date
We regularly review and update our articles to ensure relevancy and quality. This article was most recently updated on 05-19-2023.
Creating a More Effective Content Calendar
Creating a content calendar is an essential part of any content marketing strategy. It can be used to plan, organize and track content production, as well as track performance. It is an invaluable tool when it comes to content marketing success. The first step in creating an effective content calendar is to identify your goals and objectives. This will help you determine which types of content you will produce, when and how often. It will also help you determine which channels you will use to promote your content and when. Next, you should decide on your content topics. Brainstorm ideas and create a list of topics that are relevant to your target audience and that fit within the overall goals of your content marketing strategy. Once you have identified your topics, it's time to create a timeline. Decide when you will publish each piece of content and how long it will take you to create it. You should also consider how often you will post and how much time you will dedicate to promoting each piece of content. Finally, you should use a content calendar template to track and organize all of your content. A content calendar template can help you keep track of your content production schedule, track performance, and ensure that you are producing content that is in line with your goals. Creating an effective content calendar can help you ensure that you are producing quality content that is reaching your target audience. By following these steps and using a content calendar template, you can create a successful content marketing strategy that is sure to bring results.
Becoming a thought leader with relevant content
Blogging is a useful tool for helping you increase traffic to your site, position your company as a thought leader, and connect with your users. With so many valuable benefits, it's important to take a thoughtful approach to your blog. A blog content calendar is critical to building a successful blog strategy and meeting your larger business goals.
What Is a Blog Content Calendar?
A blog content calendar is a written schedule outlining what upcoming content you're creating, when it will be published, and, depending on your needs, where your content will be shared. Creating a blog calendar will help you determine the status of upcoming content, keep your content team organized, and ensure your business is regularly producing or updating site content.
Step-By-Step Guide For Creating Your Blog Calendar
1. Choose a Format
Before you begin drafting your blog calendar, you'll need a place to organize your ideas. One of the easiest options is to set up a Microsoft Excel or Google sheet. For a digital marketing agency, Google Sheets are extremely helpful for customizing calendars for each account, collaborating with clients, and sharing the rationale behind each blog. In the example content calendar below, you'll see we created sections for blog descriptions, notable holidays, and which target audience each blog is targeting.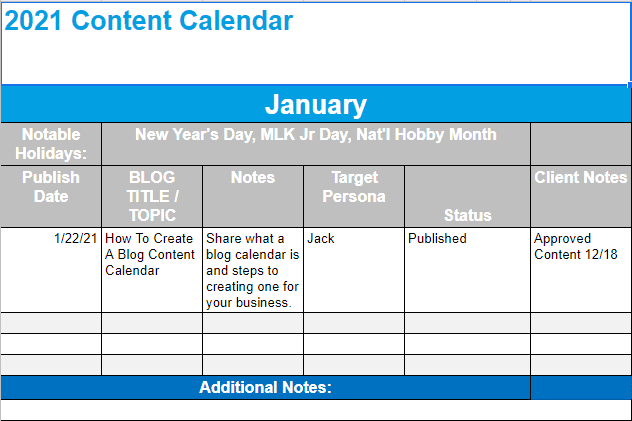 Depending on the purpose of your business and the size of your content team, you could also choose to use a project management tool like Jira.
2. Consider Your Target Audiences
Before you home in on specific blog topics, consider each segment of your audience and what's important to them. For example, if you own an eCommerce store that sells dog toys, some segments of your audience may care most about quality, while others want to learn more ways to keep their dog engaged.
3. Consider Your Business Goals
Determine what business goals you want your content to support this quarter or this year. If you're focusing on lead generation, more of your blogs should target prospective customers. If you're focusing on retention, you'll need to create high-quality content for existing customers.
4. Perform Keyword Research & Identify Keyword Gaps
Now that you know what your audience cares about and what content will support the greater business, perform keyword research to tap into current search trends. Using tools like Google Trends can help you identify popular keyword searches and what long-term keywords you may be able to focus on. While you're performing keyword research, be sure to look at what your close competitors are ranking for using a 3rd party tool. Not only can this help you develop new blog ideas, but you may be able to steal traffic away from your competition.
5. Plug In Topics
With all this knowledge, it's time to start building out your content calendar. Plug in topics to each month, keeping in mind holidays, events, product launches, and other timely events.
6. Write Yourself Notes
The "Notes" column in our content calendar example is there for a reason. Most content teams plan content a quarter or more in advance, which means you may not remember all the details you spent so much time researching. The notes column is a great place to add ideas, resources, and potential keywords you'd like to use when writing the piece.
7. Leave Room For the Unexpected
Planning content in advance is a great way to keep your content team on track and ensure you have enough time to put out quality pieces. However, it's important to leave some time for unexpected events. Add some flexibility and placeholders into your calendar so your team can balance both pre-planned and responsive content. Having a strong content calendar is the cornerstone of great content. If you have questions about how to build or execute your blog content strategy, contact us today. Our talented content team can help you develop, write, and optimize your content to connect with new and existing audiences.