04-25-2023
6 min read
Peer-Reviewed
Our writing team evaluates each article for accuracy and ensures that sources are reliable and trustworthy.
Up-to-Date
We regularly review and update our articles to ensure relevancy and quality. This article was most recently updated on 07-25-2023.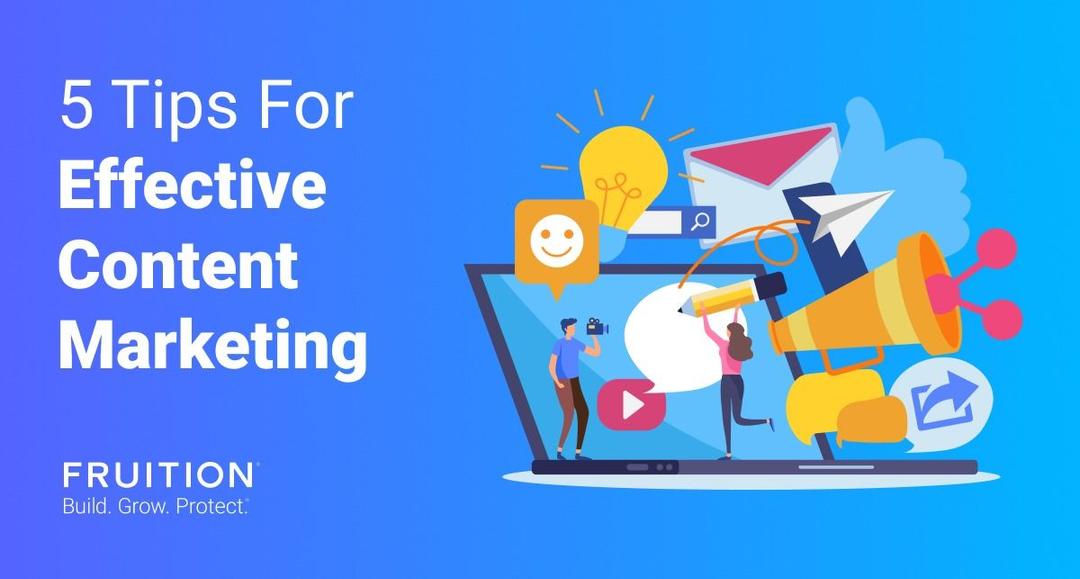 Five Quick Tips for Effective Content Marketing
Here at Fruition, we know that content marketing is key to an effective website, a meaningful email campaign, successful PPC campaigns, an authentic and engaging social media strategy, and so much more. When it comes to your overall marketing strategy, content is the thread that binds everything together. Without an effective content marketing strategy in place, your messaging might end up sounding disjointed, insincere, or just plain confusing, any of which will cost you and your business precious traffic. Plus, there's no better vehicle for increasing SEO than a good, well-thought out content marketing strategy. Related: How to Create a Blog Content Calendar But if you're new to content marketing, it might seem daunting to think through all of the factors that need to go into a smart content strategy. That's why we've pulled together a quick round up of some best practices for content marketing. Here are Fruition's top 5 tips for developing an effective content marketing strategy.
1. Understand Your Audience, Then Make Them The Hero
No matter whether you plan to build out a series of blog posts, or if you're just writing out copy for the different pages on your company's website, the first thing you'll need to do to build effective content is understand your audience. In other words, before you start writing, you need to assess the benefits that your company provides to your customers. Why do the people who use your product or service choose you over your competitors? What specific problems does your company solve for your customers? At its core, a content marketing strategy helps you think through how you're having a conversation with your audience. What do you plan to tell them? What do they need to know about your product or service? These questions get a lot easier to answer effectively when you understand who exactly you're talking to. Once you have a firm understanding of your target audience, keep in mind that people tend to interact more positively with content that centers them as the "hero" of their own story. Be sure as you're writing the blogs you have planned or the site copy you're working on that what you're putting down on the page is useful to your customers' lives. After all, they are the hero, not your brand.
2. Keep Your Content Goal-Oriented with Clear CTAs
Now you know who your customers are. The next step in creating a smart content strategy is to determine your brand's goals. What do you want your audience to do? Deciding on which user actions equate to "conversions" for your brand is key for developing clear, compelling calls to action, or CTAs. Content marketing uses CTAs to help your brand achieve these goals. Do you want your customers to download an app? To buy a product? To write a referral? To download your whitepaper? Knowing what exactly your brand's goals are helps focus your content marketing efforts, and will help you plan out your blog content calendar, or decide which pieces of content to prioritize.
3. Harness the Power of SEO Keywords
It's no secret that content marketing and SEO go hand-in-hand. SEO, or search engine optimization refers to the way your website ranks for different search terms, or keywords. Using SEO software like Fruition's WTWON software you determine which keywords to "go after," or try to rank for in searches. Content is your brand's vehicle for incorporating these SEO keywords in a way that seems real and relevant to your audience's needs. There is a delicate balance between stuffing a given blog or webpage with specific keywords and providing meaningful content that your brand's audience will want to spend time reading. One smart way to use SEO keywords to inform your content marketing strategy is to plan your blog content calendar around topics which will both interest your audience and which will help you rank highly for SEO. At Fruition, our content marketing team works closely with our SEO experts to ensure that the blogs we write for our clients are well optimized for search engines while remaining helpful to readers. Related: What to Expect from an SEO Assessment
4. Use Data to Inform Your Content Strategy
As you develop your brand's content marketing strategy, it's important to keep an eye on how each blog you write is performing. Using tools like Google Analytics to track key statistics such as pageviews, unique pageviews, bounce rates, time on page, and scroll depth can help inform how well your content is serving your brand. Compare your blogs' stats with the benchmarks for your industry. If your content is over-performing, great! Keep doing what you're doing, or build in a few blogs designed to take some risks and try to rank for harder to win SEO keywords. If, however, your content is under-performing, think about whether you're addressing your specific audience's needs. Have you built in enough keywords? If your content is not ranking highly enough for SEO, your audience might be having a hard time finding your content in the first place. When our content team at Fruition works with our clients, we perform a holistic assessment of our clients' existing content to determine how well their content marketing efforts are performing in 11 key areas, including tone, user path, keyword density, and more. If you find yourself really struggling with understanding how to better tailor your content marketing strategy, it might be time to consult a digital marketing agency like Fruition for assistance.
5. Keep Other Content Channels in Mind
As you build out your brand's content marketing strategy, we recommend thinking beyond just the blog content and the landing pages on your website. There are plenty of channels that your audience might be using in order to find the information they need. Video, for instance, is emerging as a key channel for marketing efforts. It's often worthwhile to think about how you can use paid campaigns, email marketing campaigns, or social media to supplement your blog content, or vice versa. Working with a multi-service agency can make this process much easier, but even if you're handling content marketing for your business on your own, it can be well worth your time to consider a several-channel approach to content marketing. Related: Benefits of a Multi-Service Agency Need help perfecting your brand's messaging? Our SEO team will optimize your site and get you ranking again.