04-25-2023
4 min read
Peer-Reviewed
Our writing team evaluates each article for accuracy and ensures that sources are reliable and trustworthy.
Up-to-Date
We regularly review and update our articles to ensure relevancy and quality. This article was most recently updated on 06-16-2023.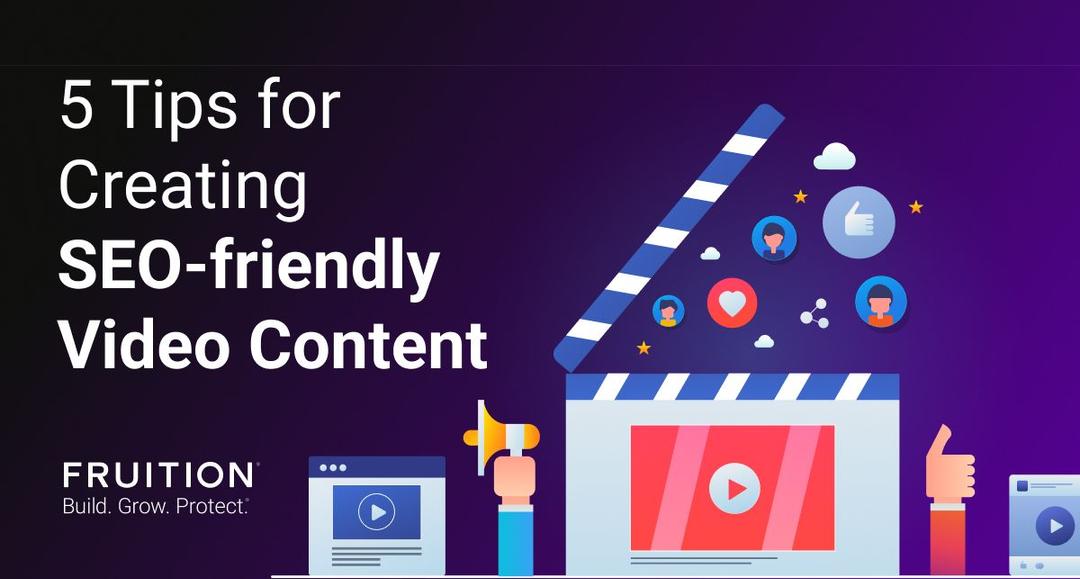 5 Tips for Creating SEO-Friendly Video Content
Video content is all the rage right now, and for good reason. Video makes up over 80% of all traffic online. Companies which utilize video effectively in their larger marketing content plan can see huge gains in time on page, engagement, and ultimately, conversions. But how can you make your brand's video strategy work for you? Three little words: Search Engine Optimization (SEO). Related: 2021 Year in Review: SEO Trends Here's how to implement a great SEO strategy for your business's video content.
Why SEO Matters for Video Content
Just like with on-page content, SEO should always be a part of a strategic YouTube or video campaign. With the way YouTube and its algorithms work, what you title your video and the keywords used in that the keywords used in your video description or in your video tags, will be very important for SEO. You'll want to make sure these terms all incorporate high-ranking keywords.
Tips for Creating SEO-Friendly Video Content
1. Use Smart Keyword Research Methods
Keyword research is super important for video, not only in terms of actually typing out relevant keywords into the crawled features of videos. Keyword research is also important for video SEO because it can help you answer crucial content-directing questions like:
What are people looking for?
What type of information do our users have?
What type of information do our users want?
What type of problems do our users have?
How can they find solutions to these problems?
The answers to these questions are all great video ideas that, for any business or brand, can lead to relevant, useful, and high-ranking content. YouTube gets hundreds of millions or billions of searches each day every month. So there's just so much potential visibility there for your product or business, if you do SEO correctly.
2. Use the Right SEO Tools
When you're planning an SEO strategy for your video campaign for your brand, you can use the same SEO tools as you do for other types of content, like SEMrush or Ahrefs, but there are also video-specific SEO tools to check out, as well. TubeRanker, for instance, looks specifically at SEO for videos on YouTube. But the best way to make sure you're optimizing your videos for SEO correctly is to use a nice blend of SEO tools, competitor research, online search engine research on your subject matter, and compelling writing.
3. Make an SEO-Rich Content Plan
Build out a content strategy that centers both general and specific subjects of interest to your planning out your content calendar around high-ranking keywords and popular subjects, making sure to fill out all video meta descriptions effectively, and choosing optimal related videos.
4. Optimize Your Video Length for SEO
You'll also want to be sure that your videos are optimized in terms of time-span. The length of your videos can directly affect your viewer's engagement, and higher engagement—more likes, more views, more subscribers—helps video rank more highly on YouTube and other video platforms. Unlike on social media platforms like Instagram and TikTok, YouTube videos should average between two and five minutes in order to do very well. Depending on your audience, you can even upload videos of up to 10 minutes long, so long as your content is useful and engaging. No matter what your industry, you'll want to make your videos at least 2 minutes long, since YouTube rank signals include "time on video," a metric similar to "time on page" for blogs.
5. Consider Your Site Speed When Uploading Video
When it comes to where to upload your brand's videos, you can pop them directly into your company's YouTube page. YouTube handles all the technical aspects of your videos' SEO for you on the back-end, so there's no need to worry about that. If your site speed can handle it, try embedding the videos in blogs containing pertinent, useful information. If you find that your site is having a hard time loading with the video embedded, try linking out to your video instead. Read more: 4 Ways to Improve Your Site Speed No matter what your company's video content looks like, these are some of the best practices surrounding video SEO. If you need help creating a video content strategy for your company, contact our expert marketing team today!
Get help with your video seo.