04-29-2023
4 min read
Peer-Reviewed
Our writing team evaluates each article for accuracy and ensures that sources are reliable and trustworthy.
Up-to-Date
We regularly review and update our articles to ensure relevancy and quality. This article was most recently updated on 05-20-2023.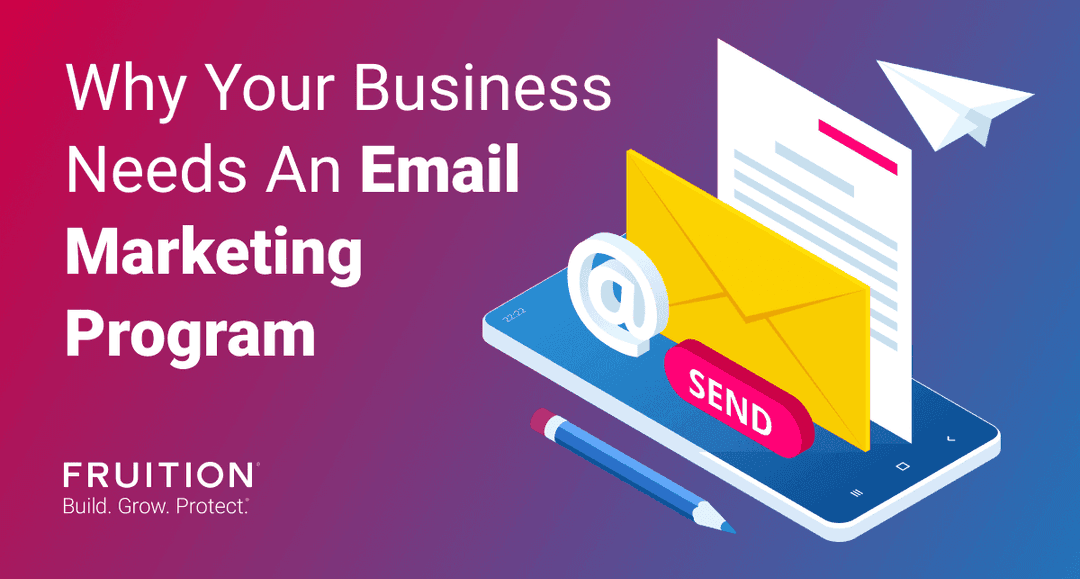 Why Your Business Needs An Email Marketing Program
Whether your business is product-based, service-based, B2B, or B2C, implementing a strong email marketing program should be at the top of your to-do list. 99% of consumers check their email daily and most consumers report that email is, by far, their preferred method of receiving updates from brands. If those two stats alone aren't enough to convince you to prioritize email in your marketing efforts, read on to discover the top 4 reasons why your business should develop an email marketing program.
Benefits of Email Marketing Programs
1. Boost Sales
Email allows you to use strategies like cart abandonment, browse abandonment, and product recommendations to keep your company top of mind and drive more revenue. Since the visitor has already done the legwork for you by browsing and selecting products they're interested in, an automated email program can remind them of those products and encourage them to complete their purchase. These emails aren't just for B2C companies - B2B business can use email as a touchpoint in lead nurturing. By using email in addition to phone calls and other outreach strategies, you can create a much more robust lead nurturing process that works for all team members.
2. Build Trust
Use your email program to build brand recognition and establish a connection with your subscribers. A welcome series is a valuable addition to keep your customers coming back for more. These types of emails allow you to:
Explain who you are and what you do
Invite subscribers to get involved in your community by sharing links to social media platforms and forums
Share reviews/testimonials
Provide more information about your company culture and values
At this stage in your customer relationship, avoid sending welcome emails from a "do not reply" address. Sending from a real replyto address allows your customers to directly reply with issues, questions, or even their thanks! If your business is B2B or service-based, take this a step farther by adding a calendar link for their primary point of contact so your subscriber can easily get in touch.
3. Keep Customers Updated
Since so many people check their emails on a daily basis, you can quickly send out information if there's a change in your company's processes - like COVID updates, holiday changes, new products, training, webinars, and more. Communicating important updates through email adds a new touchpoint to your digital marketing strategy that gives you more control and visibility into who is reading your content. For example, imagine your business is launching a new product. While making an announcement on social media is a necessary part of your marketing strategy (and a great way to create excitement!) not everyone uses social media regularly, and news feed algorithms can prevent those that are active on social media from seeing your content. By communicating via email, you can track openers and resend emails to people who didn't open the email, especially if it's an urgent or time-sensitive message.
4. Leverage Data To Strengthen Your Overall Marketing Strategy
Email platforms provide robust metrics to help you better understand your audience. eCommerce businesses can track sales and revenue, see what products people click on most, and understand what type of messaging is causing people to unsubscribe. Reusing subject lines that get higher open rates can also be used in captions on social media or help develop the tone for the website. B2B or sales-based teams can use these metrics to track open rates and responses, put leads into workflows, and help the sales team identify high-quality prospects. If you're ready to see the benefits that email marketing can bring your organization, contact Fruition today. Our team will help you build a unique strategy to meet your business goals, delight your customers, and maintain great list hygiene to help you reap the benefits of email marketing.
More Digital Marketing Insights
Here are some more digital marketing insights from the team at Fruition.