04-29-2023
5 min read
Peer-Reviewed
Our writing team evaluates each article for accuracy and ensures that sources are reliable and trustworthy.
Up-to-Date
We regularly review and update our articles to ensure relevancy and quality. This article was most recently updated on 05-20-2023.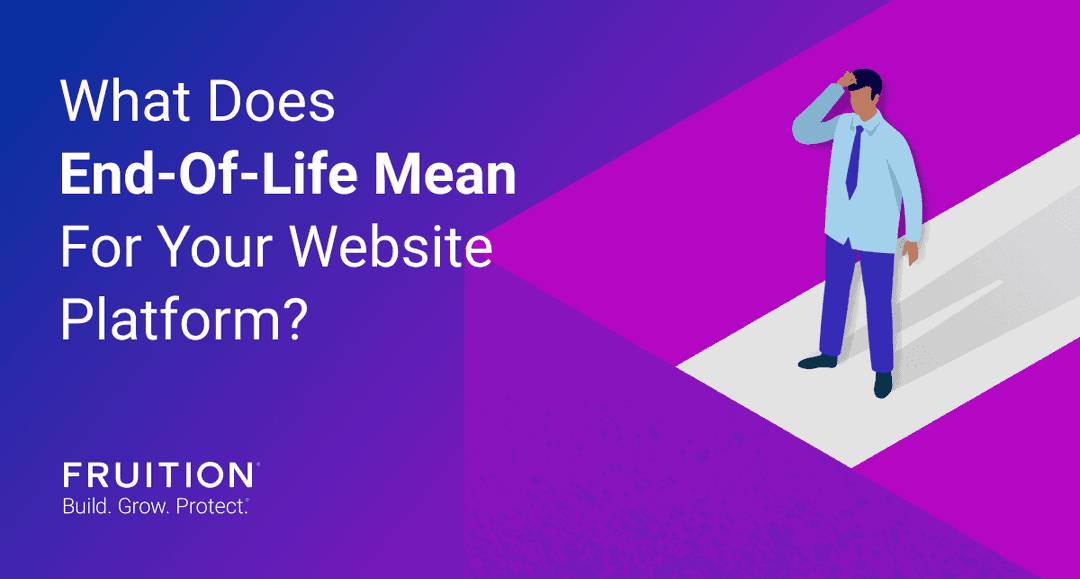 What Does End-of-life (EOL) Mean For Your Website Platform?
End-of-life (EOL) is a term used when a company or creator will no longer support their current product version. EOL can be used to refer to website platforms, software, apps, or even a physical product. For web platforms like Drupal, Magento, or WordPress, an EOL announcement is typically made when the organization decides to focus its energy and attention on a newer version of its product.
Why Does End-of-life Happen?
EOL is a natural occurrence in the technology world and makes room for continuous innovation and improvements. For example, consider your smartphone's operating system. We've seen many iterations of smartphone software come and go, and each version supports the latest technology advancements. As new capabilities become available, smartphone creators begin building new operating software that capitalizes on these new advancements. You'll continue to see support on older smartphones for some time, but eventually, the old phones stop supporting new software. The same is true with website platforms. As technology continues to evolve, platforms must change with it.
What Should I Do If My Website Platform Is Nearing Its EOL Date?
EOL dates are announced well in advance to allow businesses to upgrade to the newest version. Leading up to the official EOL date, your site will continue to receive support. However, once the date passes, your site won't receive platform updates or security patches. Not only does this open your site up to more security risks, but as time passes, it may become more and more difficult to maintain functionality. When an EOL is announced, it's in your business's (and your customers!) best interest to upgrade by following these steps:
1. Make Sure You Know The Official EOL Date
Before you make more decisions, make sure you know your platform's EOL date. Depending on the complexity of your site, migrating to a newer version could take several months, so don't wait until the last minute to find a developer or agency that can perform the migration for you.
2. Look Into Your Options
Before you immediately decide to migrate to a newer version of the same platform, take some time to evaluate what's best for your site. Is your site meeting your current and projected needs? Are you planning on doubling down on more complex functions, like online scheduling, eCommerce, or eLearning? An EOL deadline is a great time to re-evaluate the effectiveness of your site and determine what future capabilities it should be prepared to handle.
3. Look At Your Data
A migration is a good time to make much-needed improvements to your site. Dig into heat mapping or Google Analytics data to see how users are currently interacting with your site. If you notice trends, like a high bounce rate or that visitors aren't following your ideal user flow, it may be a good idea to redesign all or part of your site.
4. Make A Priority List
Once you develop your wish list for your new site, prioritize each functionality. What do you need right now, and what can you wait on? Having a prioritized list will help your team understand which features they should spend the most time on now and which can wait until after the initial launch.
5. Make A Development Plan
Now that you have an idea of what you want out of your new site, evaluate your development plan. Do you need to pull in additional resources to complete the project on time? If so, you'll need to start your research early to find the right partner for you. When evaluating potential development partners, be sure to look at:
Experience: Have they worked on this platform before? Do they have examples of similar migration projects?

Quality: What quality control do they offer? Are there checks and balances to make sure your site meets your expectations?

Style: If you're migrating and redesigning your site, can they do both? Does their design portfolio speak to your business' style?

SEO: Part of your site's development, including the site architecture, page titles, and content, will be impacted by SEO. If you've worked hard to help your site rank well, you want to make sure it's transitioned well so you don't miss a beat. A team that has experience in development and SEO can ensure your new site has the right optimizations to earn traffic and gain conversions.

Hearing that your website's platform is reaching end-of-life can be overwhelming, but with the right team, migrating to a new version (or new platform) can breathe new life into your business's online presence. If you have questions or concerns about your current platform or an upcoming EOL date, we can help! With experts in design, development, and marketing, we can transform your new site into a user-friendly, lead generation machine. If you are ready to get off an EOL platform we can migrate you to something modern and secure.