04-29-2023
4 min read
Peer-Reviewed
Our writing team evaluates each article for accuracy and ensures that sources are reliable and trustworthy.
Up-to-Date
We regularly review and update our articles to ensure relevancy and quality. This article was most recently updated on 05-07-2023.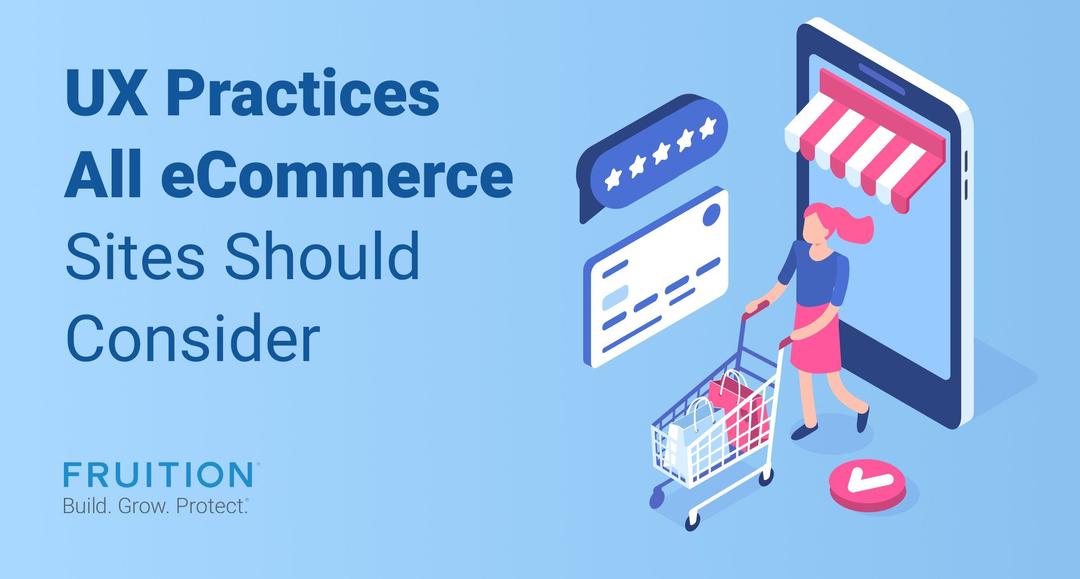 UX Practices All eCommerce Sites Should Consider
The user experience can define an eCommerce site's success. From navigating your site to comparing product descriptions and checking out, the user experience should be effortless and intuitive. If the process is cumbersome or difficult, your company could end up losing business, no matter how great your products are. To help you capture more business and simplify your user experience, read our top 9 UX tips for eCommerce sites.
1. Create A Strong Homepage
Your homepage should have a clear point of focus and a strong call to action at the top of the page. Consider what products and product categories are most valuable to your customer and make those options available from the homepage.
2. Simplify Navigation Menus
Visitors should be able to quickly and easily navigate your site using navigation menus. When creating these menus, think about the different products on the site and how they can be categorized into broader topics. Avoid making these menus overly specific. With too many links in your primary navigation, customers may have a harder time finding what they're looking for.
3. Make The Search Bar Easy To Find
One of the primary ways customers find eCommerce products is by searching for specific product terms. If they can't find the search bar, they'll get frustrated and leave the site. Make the search bar easier to find by placing it close to the primary navigation links. Be sure the search bar is easy to find on both desktop and mobile.
4. Streamline The Checkout Process
The checkout process is one of the most critical flows on an eCommerce site. If the process is too long or complicated, customers can easily get frustrated and abandon the purchase. Simplify your process by only requiring the essential information and not forcing customers to enter repeat information. For example, if the billing and shipping address is the same, users should only have to enter it one time.
5. Allow Customers To Check Out As Guests
Most customers want to complete the checkout process as quickly as they can, and requiring users to create an account may lead to increased cart abandonment. A successful checkout flow should allow guests to complete their purchase as a guest without creating an account. It's okay to give users the option to create an account, but to increase sales, it should never be required.
6. Add Breadcrumbs
Breadcrumbs are a secondary navigation system that show users where they are in your site. Breadcrumbs often appear as follows: Women's > All Women's Shoes > Sandals. Including breadcrumbs can help users navigate the site and quickly return to previous pages.
7. Prioritize Page Load Speed
The longer your website takes to load, the higher your bounce rate will be. Decrease each page's load time by making sure images are compressed, removing plugins you aren't using, and making sure you're using a fast hosting provider.
8. Make Sure Your Website Is Responsive
Many users will access your site through mobile devices. To keep these visitors on your page you'll need to optimize your website for mobile. If not, users will most likely visit a different site that works better on their phones.
9. Use High Quality Images
High quality product images can help increase customer interest in a product and lead to higher conversion rates. In addition to the quality of the image, it's important to provide multiple angles and provide pictures of any product accessories. Since customers can't pick up a product when shopping online, your site will need to fill in the gaps and show off all every part of your product. Aren't sure if your eCommerce site is delivering? Reach out to Fruition. Our team can help you provide a great user experience, increase conversions, and build brand loyalty.
Get In Touch!