04-29-2023
7 min read
Peer-Reviewed
Our writing team evaluates each article for accuracy and ensures that sources are reliable and trustworthy.
Up-to-Date
We regularly review and update our articles to ensure relevancy and quality. This article was most recently updated on 05-07-2023.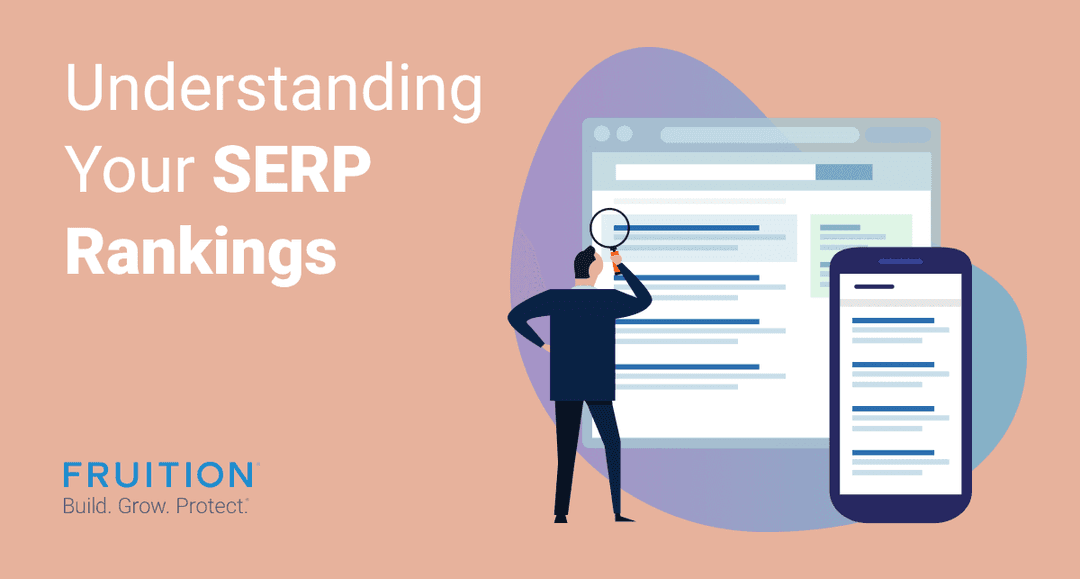 Understanding Your SERP Rankings
When a user enters a search query, search engines use complex algorithms to determine which web page most closely matches their search terms. An SEO specialist's job is to understand what search terms users may enter to find a certain webpage. Then, specialists must interpret the algorithm's preference and ensure that the website adheres to search engine's standards, while also maintaining a positive user experience. It's a complex field, with a multitude of factors to consider. If you're not sure why your site shows up at a certain position on a search engine results page (SERP), take a look at some of the main categories that may be affecting your website's rankings. Combined these optimizations are what Fruition does under and SEO services contract.
Informed Content Building
Despite Google's ever changing algorithm, content creation is still SEO 101. The more relevant a page's content is to a given term, the higher chance you have at ranking for those terms. If your site's keywords are lacking, conduct keyword mapping for all pages on your site. Then, build content with those keywords at the center of the content's theme. Be sure to write in a way that naturally includes your target keywords in the headers and general copy, rather than blatantly inserting them wherever possible. Having a strong keyword strategy and seamlessly incorporating them into the copy is a prime way to help ensure your site will do better for ranking for that term. ChatGPT and other AI engines have rapidly accelerated the amount of content that is created everyday.
Meta Data
Page titles give users and search engines a description of the page's content. To raise your site's ranking, you'll need to tailor page titles to each page's main keyword topic. This helps search engines understand what's on the page, and entices users to learn more by clicking on your site in the SERPs.

While meta descriptions don't directly affect a site's ranking, they do influence click-through-rate (CTR). If a page has a high CTR and lots of traffic, search engines will likely improve rankings for that page. To gain these benefits include meta descriptions that incorporate the main topic of the page and have a strong call-to-action.
Schema
Schema Markup is a coded way to tell search engines what the content on your page means, and gives you more control than if the search engine interprets the content by itself. It also increases the chances for web pages to appear as rich snippets on search results, which boosts your page to the top of the SERPs and increases the overall chances of a site's click-through-rate. To test your schema you can use schema.org's testing tool.
Mobile Optimization
Google has been rolling out mobile-first indexing since 2018, which means webpages are ranked based off of the mobile version, regardless of what device a user is currently using. Quality content, responsive designs, and mobile page speed are all key to maintaining and improving rankings for your site.
Mobile Page Speed
Page speed, a signal used by Google's algorithm to rank pages, calculates the "time to first byte" (how long it takes for the browser to receive the first byte of information from the web server). A slow page speed indicates to search engines that the user experience may be negative, therefore influencing negative rankings for that webpage. Page speed is crucial to user experience, and pages with longer load time have higher bounce rates and lower time-spent-on-page averages. The faster the page, the better the rankings and conversions. Utilize tools such as Google's PageSpeed Insights and GTMetrix to determine the state of your page speed.
Internal Links
Internal links are links on your website that point to different URLs within the site. Internal links in the main navigation, call-out buttons/banners, and within the actual content all help users and search engines better navigate and crawl the site. For search engines, the more internal links from various pages point to a particular page, the more authority is passed on to that particular page. If search engines perceive that a page has high authority, that page will be considered more important and rank higher. It's important that both users and search engines can easily find all pages within your site. Make sure your most important pages are linked throughout the site to continually improve the authority of any given page.Additionally, make sure none of your internal links are broken. Broken internal links not only cause a negative user experience, but it can stop search engines from crawling the rest of the site, causing indexing issues in general for the site.
Sitemap
A sitemap xml page tells search engines what pages exist within the site. It's important to keep an updated sitemap because an outdated version could make it difficult for search engines to find and properly index pages that weren't included in the sitemap.
Domain Authority
Domain Authority (DA) remains a relevant metric in the world of SEO, even though it's not a direct ranking factor used by search engines like Google. Domain Authority, a metric developed by Moz, is a score (ranging from 0 to 100) that predicts how well a website will rank on search engine result pages (SERPs). A higher DA suggests a greater ability to rank.

Domain Authority is relevant for several reasons:
Competitive analysis: DA is helpful for comparing your website's authority with that of your competitors. By understanding the relative strength of your domain, you can identify areas that require improvement and focus your SEO efforts accordingly.
Link building: When targeting websites for backlinks, DA can be used as a reference for determining the potential value of a link from a specific site. Generally, obtaining links from higher DA websites is considered more beneficial for improving your own site's authority and rankings.
Monitoring progress: Tracking changes in your website's DA over time can provide insights into the effectiveness of your SEO strategies and help you gauge progress.
However, it's important to remember that DA is just one of many metrics to consider when analyzing your website's performance. Google and other search engines use numerous factors to determine rankings, so focusing solely on Domain Authority is not recommended. Instead, use DA in conjunction with other metrics, such as Page Authority, organic traffic, and keyword rankings, to get a more comprehensive understanding of your website's SEO performance.
Enabling Crawling For All Pages
This seems like a no-brainer, but it's something that could be easily missed if any elements in the backend of the site are telling search engines to not index the site. Sometimes this may be left within the robots.txt file, or a robots meta tag within the site. Whether you're launching a brand new site, a single page within the site, or are seeing any indexing issues, double-triple-quadruple check if a disallow command exists within the robots.txt file or if a noindex meta robots tag is on the site.
Local Optimization
Local businesses' organic traffic and conversions are heavily affected by whether or not they have optimized Google My Business or Bing Places listings. These listings inform both users and search engines about important business information like your name, address, phone, hours of operations, overall reviews of the business, and more. Keeping these updated are key to keeping positive local organic rankings. Additionally, keeping accurate and consistent NAP (name, address, phone) across all directories connected to the site allows search engines to confirm whether your local business is relevant to nearby users and can positively impact your local rankings.
SEO Services
SEO is an ever-evolving entity that needs constant maintenance, research, and updates. If you're having issues with your rankings, or are looking for opportunities to improve your standings on search engines, reach out to us. We'll help you review these key areas to see where your website stands and craft a custom, innovative SEO strategy to help your site top the rankings.