04-28-2023
8 min read
Peer-Reviewed
Our writing team evaluates each article for accuracy and ensures that sources are reliable and trustworthy.
Up-to-Date
We regularly review and update our articles to ensure relevancy and quality. This article was most recently updated on 05-19-2023.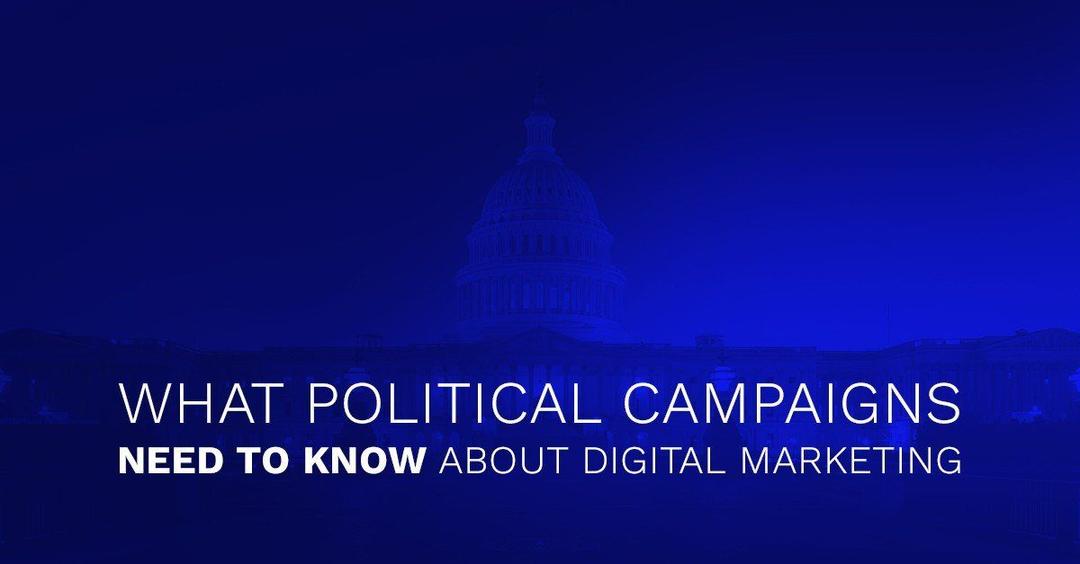 What Political Campaigns Need to Know About Digital Marketing
In the midst of a rather busy election year, candidates, political parties and issue causes find themselves fighting more than ever for voter attention and engagement. On top of that, the way the voting population consumes media and forms opinions is changing – especially as more "digital natives" reach voting age. With the continuing rise of social media and digital media consumption, campaigns can no longer afford to ignore this vital messaging platform and the need for digital campaign management – as we saw as far back as 2008. In both 2008 and 2012, President Obama famously captured the (historically less-engaged) youth vote and many attribute that success to his concerted digital campaign efforts. During the 2008 election cycle, the Obama campaign reportedly spent $6.5 million more on digital campaigning than Senator John McCain, his competitor. Going forward, digital marketing and media is expected to continue earning more of the campaign budget. From Mother Jones: "Larry Grisolano, who oversaw paid advertising efforts for both the 2008 and 2012 Obama campaigns, says that during President Obama's first campaign, online efforts accounted for about 10 percent of the paid media budget. In 2012, it accounted for 15 percent. In the current election cycle, Grisolano predicts presidential campaigns will devote nearly a quarter of their spending to digital media." But simply allocating money to digital isn't enough without understanding its potential impact and how it can be most effective. In fact, with today's younger voters, making digital missteps could potentially hurt a candidate or campaign.
Digital is challenging TV
Politicians spend most of their marketing efforts activating their supporter base – engaging and exciting voters is the best way to generate support at the polls on Election Day. To do that effectively, campaigns need to capture the voter's attention. Political TV ads used to be the go-to campaign tactic for making a major impact – but their power may be slipping. A Deloitte study found that Millennials and Generation X are likely to engaged with three additional media sources while watching TV and about 75% of people overall report being more likely to multitask during TV ads versus when they're faced by a digital ad. While on-air ads are still popular, there is a huge advertising and media shift in spend from TV to online digital. In 2016, spending on internet ads is expected to grow by 15.6% over 2015 versus TV ads' projected 0.6% increase, according to AdvertisingAge's 2016 Marketing Fact Pack. In the past six years, ad spending online has doubled. This shift isn't an arbitrary preference – it's intended to capture the attention of a younger consumer (and voter) group. The same report notes that 19.6% of millennial households don't have cable or satellite. This is a rapidly growing voter contingent. According to the U.S. Census, the millennial generation (those born between 1982 and 2000) officially outpaced the Baby Boomers in 2015 – 83.1 million to Baby Boomers' 75.4 million. Additionally, online media viewing is outpacing TV in general. The amount of time the average US adult spends on digital media each day surpassed the time spent watching TV back in 2013. This year, digital media consumption is expected to sit around five hours and 45 minutes per day versus slightly over four hours watching TV (according to the AdvertisingAge report). If campaigns want to get seen, they need to have a strong digital presence.
Younger voters have digital expectations
Last year, the States of Change Project projected that in the 2016 election Millennials would make up 30.5% of eligible voters to Baby Boomers' 30.7%, according to The Atlantic. These rising generations of digital consumers open a broader universe to connect, inspire and motivate. Twenty-three percent of Millennial and Gen Xers report spending 5-10 hours a week engaging with online content, according to a 2015 study by Fractl and Buzzstream. Around 20% reports spending 20 or more hours a week engaging with online content. (Interestingly, about 25% of Baby Boomers say they spend more than 20 hours looking at online content per week – the largest percentage for that age group.) Consumers and voters – particularly younger consumers – live in an "always on, always connected" world. This new habit of near-constant online engagement demands a strong, consistent and regular digital presence from candidates and campaigns. If you're not engaging in the realm they spend most of their time in, your message will seem faint, irrelevant, or worse – disingenuous. Another strong and often-noted trait of Millennials is that they want to be communicated to in an authentic and relevant way. They easily see through disingenuous efforts — as such, traditional marketing no longer resonates with rising generations of digital consumers, connoisseurs and influencers. A Forbes study found some interesting characteristics regarding Millennials' expectations for brands. From Forbes:
"They aren't influenced at all by advertising.Only 1% of millennials surveyed said that a compelling advertisement would make them trust a brand more. Millennials believe that advertising is all spin and not authentic.
They value authenticity as more important than content.43% of millennials rank authenticity over content when consuming news. They first have to trust a company or news site before they even bother reading the content that they produce. Blogs are meant to be authentic and many of them are run by a single individual. Millennials connect best with people over logos.
They want to engage with brands on social networks. 62% of millennials say that if a brand engages with them on social networks, they are more likely to become a loyal customer. They expect brands to not only be on social networks, but to engage them. This obviously takes more labor from companies to be able to maintain social networking feeds, but it's worth it if you want to reach millennials."
These traits hold true for what younger voters expect from politicians and political campaigns as well as brands. These are the reasons campaigns need a strong digital presence, not a lack-luster or after-thought digital campaign. Digital plans and actions need to be seamlessly woven in with broader campaign efforts, with an eye toward understanding how people engage online and what they're looking for. Simply posting a TV ad on YouTube or feeding canned quotes to bloggers isn't enough. To engage this vital and growing voter base, politicians and political campaigns need to meet these new voters where there at and how they like to communicate. The millennial generation is forcing a shift to digital campaigning and the candidates and causes that rise to the challenge could find themselves gaining an edge.
Consistency is key
They key to successful digital campaigning is consistency. Campaigns need to carefully craft a message that they spread across all platforms – digital and traditional. Because authenticity is so important, voters will instantly distrust a candidate or cause they feel is pandering to them based on media platform. Campaigns will be caught out if they say one thing on one platform then deviate or contradict that statement on another platform. Media and digital curators are constantly scouring, scrutinizing and analyzing everything a candidate or campaign says across media. If there's an inconsistency, they'll find it … and spread the word. In fact, an entire division has formed at Buzzfeed that's dedicated to researching presidential candidates past platform stances so they can report on consistencies and inconsistencies. Research is easier now. Videos are instantly sharable. A Twitter storm can erupt and grow faster than you can imagine. And voters may not be forgiving. This is why consistency is so vital. A digital campaign can't be an afterthought. It needs to be worked into media outreach, marketing and campaigning plans just as much – if not more than – planning TV and radio spots and deciding where to hold a rally. When planned appropriately, digital campaigns will fit well into the broader efforts and allow for a much expanded platform to easily share important messages, information and campaign platforms. (Just be sure the message is well thought-out before posting or buying an online ad!)
Bottom Line: Digital messaging is important
The need for digital political campaigns isn't going to disappear. Online media consumption is growing quickly year over year while traditional media consumption has plateaued or has even began falling. Campaigns are now being actively judged and rated based on their online presence, everything from which presidential candidate's website CTA is best to their social media followings to the caliber of their 404 pages. It's time to stop letting the interns Tweet and start actively driving and managing complete digital campaigns. If you want to engage and inspire voters, you need to go digital – and you need to understand what you're doing. Campaign Fruition is designed to make digital the competitive advantage of local, state and national political candidates and issue causes. Let our team of digital experts craft an engaging, compelling, successful digital presence for your campaign.