04-26-2023
5 min read
Peer-Reviewed
Our writing team evaluates each article for accuracy and ensures that sources are reliable and trustworthy.
Up-to-Date
We regularly review and update our articles to ensure relevancy and quality. This article was most recently updated on 05-19-2023.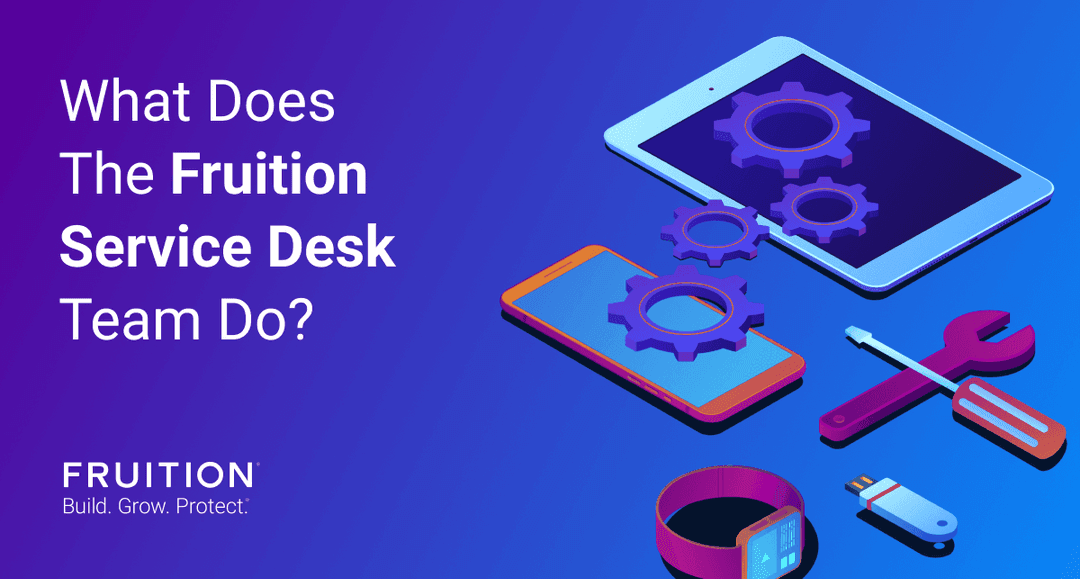 What Does The Fruition Service Desk Team Do?
At Fruition, we are here to help our clients succeed, not only through the services we provide, but also through education and customized help on a whole range of issues. We know that no matter how good your marketing strategy is, how compelling your content, and how engaging your social media presence is, if your business's website isn't working the way it is supposed to or isn't driving conversions, your business is in trouble. Our in-house team of developers is here to help build out your website, but odds are good that the Fruition team helping keep your website running day-to-day is our amazing Service Desk team. If you've never worked with our Service Desk team, or if you need a refresher, here's what our fantastic website pit crew can do for you and your business. Read more: How Fruition Stays on the Cutting Edge of Web Development
Comprehensive Support for Your Website
Our Full-service Marketing Service Desk team is dedicated first and foremost to helping solve your site problems, big and small.
Troubleshooting Plug-ins and Broken Forms
Core and plugin updates are common tasks performed by the Service Desk team because the tools for websites are always evolving, so site maintenance is a constant need. It's important, though, for updates to be completed under the watchful eye of someone who understands the code and can remediate if there are code conflicts. Forms break for similar reasons, or for reasons which are completely singular. Having our Service Desk team on your side means that we can take these headaches off of your plate, figure them out for you, then talk it through with you after we've fixed it.
Training Your Team on WordPress and Drupal Site Processes
In the same way, the Full-service Marketing Service Desk team at Fruition will work with your team to train them on-site processes for WordPress or Drupal, whichever system your site runs on. We want to gain a greater understanding of how our clients are going to use their site on a daily basis—whether that means they are posting blogs, creating pages, or otherwise. Once our Service Desk team has an understanding there, we work to tailor a WordPress or Drupal training course for you. These training services can range from helping your internal team develop a basic understanding of your website's platform, or focus on building a decent proficiency in navigating that program. It all is up to you, and depending on your company's specific digital marketing needs, our Service Desk will make a recommendation on training. These training sessions can be a great way to supplement other service desk services your company takes advantage of on a daily basis. We build a website because it's a tool for our clients to use as a business. Having your team build a pretty good understanding of this tool is helpful to your business.
Riding Out Update Snags
Whenever new core or plugin updates are identified, it is never clear how things on the site will interact with each other. For instance, depending on the platform's update, something that worked just fine on WordPress two years ago might not work in this version. As any developer will tell you, remediating conflicting code can be a tricky business, but it's something that our Service Desk team at Fruition excels at. The Service Desk also works to identify which updates help resolve security issues on the platform, and which updates are less crucial, so that your site is less likely to be affected by nonessential updates. When the operating system (OS) makes a larger jump in updates, not all plugins are going to have been tested on the new OS for the platform, which sometimes causes internal breakdown of how the two systems understand each other. In these situations, our Service Desk team helps these two programs understand each other. This reduces downtime on your site and ensures all systems are working, so you can continue building your business.
Related: The Importance of Website Updates and Why You Should Keep Up With Them
Building Out "Mini-Projects"
In some cases, your website might need a tune-up that involves more than just a little work. That's wonderful! For times when you want a more robust update (like adding a page for hosting video content, for example) the Service Desk team has the capability to work on what we call a "mini-project." In these cases, the team will build out custom content for you per your specifications and needs. These mini-projects tend to be tasks that might take over eight hours to complete and tasks that require a much more dedicated focus. Of course, if the mini-project evolves into a larger project over the course of discovery, the Service Desk will pass the project along to a dedicated project manager with a more defined scope of work and budget. If it does stay a mini-project, though, you can rest assured that the Service Desk team knows the ins and outs of your site, will address any conflicting codes with recent updates, and can work with you to anticipate future modifications. As you look into the new year, consider whether you need to add any functionality to your website, and don't be afraid to ask us for help! These mini-projects are some of our Service Desk team's most rewarding marketing services. To learn what our Fruition Service Desk can do for you and your business, drop us a line today. We take immense pride in our digital marketing work, and we know that our website support team is ready to help your business succeed in 2022 and for years to come.