04-25-2023
3 min read
Peer-Reviewed
Our writing team evaluates each article for accuracy and ensures that sources are reliable and trustworthy.
Up-to-Date
We regularly review and update our articles to ensure relevancy and quality. This article was most recently updated on 09-01-2023.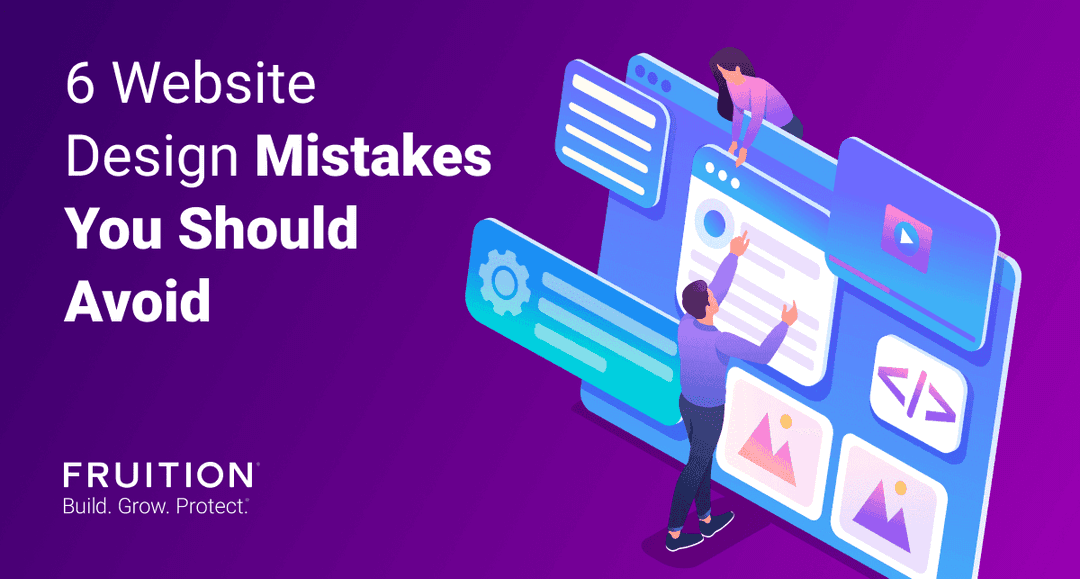 6 Website Design Mistakes You Should Avoid
A great website design will build trust, share your brand story, and guide users through the marketing funnel. On the other hand, poor web design can erode user trust before visitors even read about your company. About 75% of users make judgments about a company's credibility based on visual design alone, making design a key aspect in any successful business. To help you design an effective site, we're sharing 6 website design mistakes you should always avoid - no matter your industry, product, or service.
1. Low-Quality Logos
Your logo is one of the most important pieces of branding on your website, so make sure it stands out. Use a high-resolution version that looks good on retina screens. If you can, use an SVG - this file type can be scaled to about any size and maintain its resolution.
2. Poor Image Quality
Photos are some of the most important aspects of a site. Using high-quality photos will make your website feel more professional and keep users engaged. Instead of relying on high-quality stock photos, invest in a professional photographer. Sharing professional photos of your building, products, or staff on your site, social media, and email campaigns can increase brand loyalty and recognition.
Read More: Does Your Site's Imagery Reflect Your Brand Identity?
3. Unoptimized Content
Many companies make the mistake of using big blocks of copy on their websites. However, most users skim web content and don't take time to read every single sentence. When writing content, keep it as concise as you can and break up the text with subheaders, bullet points, and other visual cues.
4. No Calls To Action (CTAs)
Your site should have clear CTAs that incite action and direct users to the content you're looking for. When designing your CTAs, keep the customer journey in mind. Someone who is brand new to your site may need a "learn more" CTA to read about your values and services, while someone who is ready to purchase will look for a "buy now" button.
5. No Mobile-Friendly Version
Between smartphones and tablets, users are on mobile devices more than ever. Make sure you capitalize on mobile traffic by building a responsive design that's optimized for every device, from desktops to tablets and phones.
6. Missing 404 Page Design
No one wants their site to have 404 errors, but you should be prepared for them with a great design. A creative and brand-specific 404 error page gives you additional opportunities for:
Branding: A custom 404 page strengthens your brand image and increases the likelihood that visitors will continue exploring your site, rather than leaving it
Trust building: Strong 404 pages can further establish your reliability and build trust between you and your consumers
SEO: You can add links to important parts of your site, which helps search engines better understand your sitemap
Fun: A 404 error is never fun, but a creative and engaging 404 page can soften the blow
Great design is at the heart of every successful website. If you're not sure how your design stacks up, contact us today! Our design team excels at creating visually stunning and effective sites to build loyalty and encourage action.
Get In Touch!