09-12-2023
3 min read
Peer-Reviewed
Our writing team evaluates each article for accuracy and ensures that sources are reliable and trustworthy.
Up-to-Date
We regularly review and update our articles to ensure relevancy and quality. This article was most recently updated on 09-12-2023.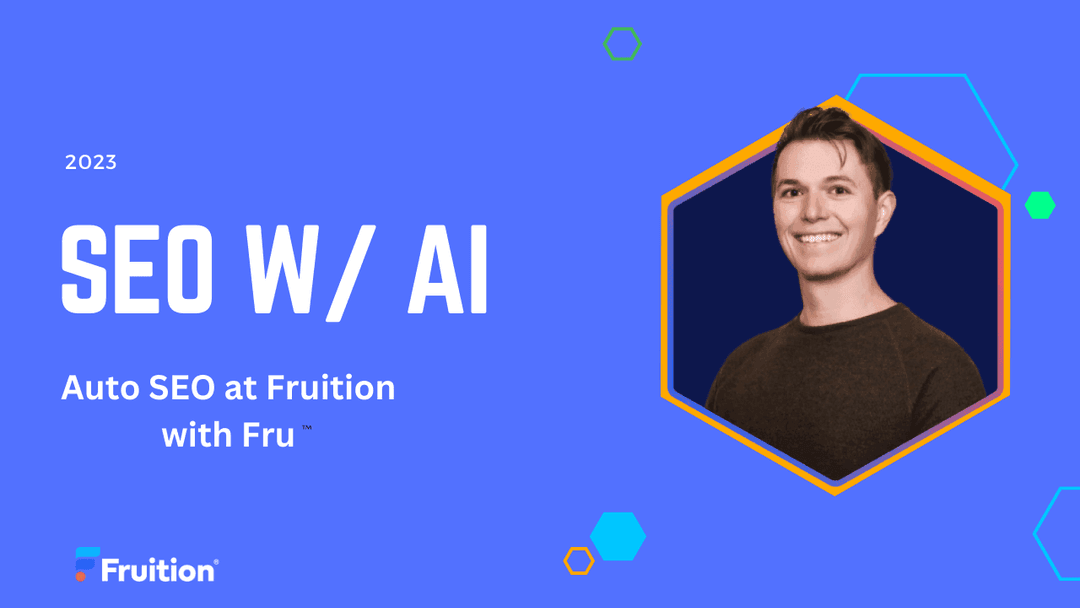 Staying ahead of the curve of the SEO curve is crucial for increased website visibility and web traffic. Fruition, now in its 20th year of providing advanced SEO optimization services, recently achieved a significant breakthrough by leveraging Artificial Intelligence (AI) to auto optimize WordPress websites for its existing clients. This new platform built internally at Fruition has shown impressive results, including a 20% increase in organic traffic from optimizing existing pages.
Using AI to Optimize WordPress Websites
Fruition's AI's integration into SEO is changing the dynamics of how WordPress websites perform and engage with users on the web. Tapping into this technological advancement, Fruition has pioneered the use of AI within its service offerings. This enables our SEO team to produce a higher quality work in less time.
AI makes it possible to comprehend and adapt to intricate algorithms, enabling thorough optimization of WordPress websites. It does this by identifying pertinent patterns and trends related to user behavior, ensuring highly personalized and more effective SEO strategies.
Setting Up with Fruition.net
Starting with Fruition.net is simple and straightforward. By visiting their website, users can engage with a highly interactive interface designed to ensure effortless navigation. Once there, prospective clients can access comprehensive details on the range of services offered.
A highlight of Fruition.net's user-friendly design is the option to sign up for a free SEO audit. This initiative allows potential clients to understand the depth of SEO issues on their website, how AI can address those problems, and the potential for increased traffic and website ranking.
Results So Far: A 20% Boost in Organic Traffic
Fruition's implementation of AI did not just make news; it proved incredibly fruitful. An initial results analysis showed a standout 20% rise in organic traffic from the optimization of existing pages using AI technology. These results demonstrate the potential of AI in improving SEO practices, website performance, and ultimately, user engagement.
How to utilize Fruition's AI to Optimize your WordPress Website
The combination of AI and SEO optimization services offered by Fruition represents a major step forward in digital marketing. As more companies start to acknowledge the power of AI in SEO, it is safe to say that the future of WordPress optimization lies in the hands of artificial intelligence. With impressive initial results, Fruition's AI-powered optimization of WordPress sites promises a brighter future for SEO strategies and a new era of enhanced web visibility and user interaction.
To get started utilize the contact form below and we can get your WordPress website setup to utilize our AI. The AI for SEO does have limited bandwidth at this time.
Utilize AI for your SEO with Fruition
We are onboarding new clients into our SEO AI platform soon. Let us know if you're interested.
Related SEO
Related SEO AI articles