04-26-2023
3 min read
Peer-Reviewed
Our writing team evaluates each article for accuracy and ensures that sources are reliable and trustworthy.
Up-to-Date
We regularly review and update our articles to ensure relevancy and quality. This article was most recently updated on 06-27-2023.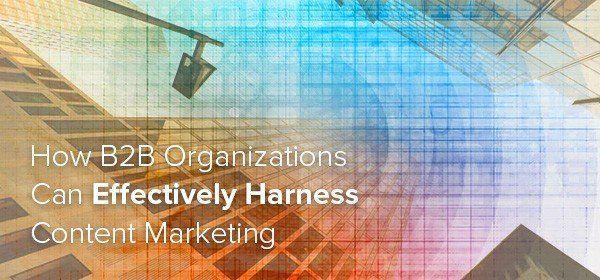 How B2B Organizations Can Effectively Harness Content Marketing
Each Fall, the latest B2B Content Marketing Benchmarks, Budgets, and Trends – North America report is released by the Content Marketing Institute and MarketingProfs. This valuable resource provides insight into content marketing trends and effectiveness, helping teams understand their position and generate ideas for future strategies. The 2016 report revealed that content marketing is playing an increasingly important role in B2B companies, with 88% now embracing it. Content marketing impacts numerous facets of a company, from brand recognition to customer retention, and is crucial to overall marketing success.
Current State of Affairs
Despite its importance, many companies still feel like they're missing the mark. The number of organizations considering their content marketing efforts successful dropped from 38% in last year's survey to 30%. Over half of the respondents report not knowing what effectiveness looks like for their company's content marketing efforts. As content marketing continues to evolve, it's crucial for B2B companies to develop a clear understanding of their goals and create a roadmap to achieve them.
Taking it to the Next Level
Successful content marketing teams have a clear definition of effectiveness and document their strategies, goals, and KPIs. Documented content strategies lead to more successful teams and better ROI measurement. Mature content marketing teams also establish an editorial mission statement to ensure a cohesive approach to targeting their audience.
Make a Customized Plan
Each company must define its own goals and decide which methods and platforms to pursue. On average, B2B companies use 13 different tactics, with social media content being the most common. However, other less-common tactics like white papers, infographics, and webinars have higher reported effectiveness rates. Teams should prioritize their efforts based on company goals and audience preferences, while also testing and measuring the effectiveness of each tactic.
Get Help
Many businesses face challenges in creating engaging content, measuring effectiveness, and producing content consistently. When internal resources are limited, it's important to seek help from a reputable marketing agency. They can provide content marketing strategy expertise, top-notch execution, and in-depth analysis that aligns with other digital marketing practices, resulting in a stronger overall marketing approach.
Where Do You Fall?
The 2023 B2B Content Marketing Benchmarks, Budgets, and Trends report is an excellent resource for understanding industry trends and identifying areas for improvement. Content marketing is increasingly important for organizations of all sizes and stages. Focus on the type of content you're creating, its quality, distribution, and effectiveness. If you need assistance, turn to an experienced agency to keep up with the rapidly advancing playing field.