Brad Anderson
Technologist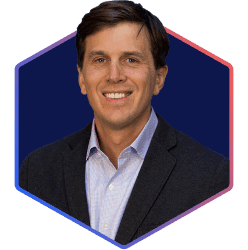 Founder of Fruition
Brad Anderson is the Founder and former CEO of Fruition. Brad's focus is to support Fruition's strategic initiatives. Brad handed over the CEO torch to Jim Collins in October 2019. Brad's current focus is assisting with Fruition's protect initiatives as a CTO/CISO.
Brad completed his undergraduate work in Economics at the University of Colorado at Boulder, and his masters degree in Technology Management/E-commerce at the University of Denver and University of Denver Sturm College of Law. Brad is a member of the Colorado Bar Association and several IP technology groups. He is on the board or a board observer for middle market multi location healthcare companies and enjoys seeing the maturation of businesses through their many stages of growth.
Education
University of Colorado at Boulder, B.A. Economics (Go Buffs!) University of Denver, Masters in Technology Management University of Denver, Sturm College of Law, Juris Doctorate
Fun Facts
"My non-uber-nerd passions include cycling, dirt biking, and alpine skiing. Brad is married and enjoys having his daughters teach him how to carve GS turns."