04-28-2023
9 min read
Peer-Reviewed
Our writing team evaluates each article for accuracy and ensures that sources are reliable and trustworthy.
Up-to-Date
We regularly review and update our articles to ensure relevancy and quality. This article was most recently updated on 05-09-2023.
Expert tips to rank higher in local search
Earning a high placement in the local maps listings gives you the opportunity to be featured above the organic listings for some of the highest visibility spots in the search results. The local maps listings are designed to be highly engaging to your customers, making them one of the best channels to drive highly qualified traffic to your business. Your Google Business profile is at the heart of a successful strategy to rank in the local three pack and is an extremely powerful tool to drive traffic and build brand awareness for your location and business. Having an optimized and up to date Google Business listing is essential to succeeding in local search. Ensuring your Google business profile is well attended to gives you the opportunity to utilize an additional online channel that is so effective it has been compared to having a second website. As Google evolves their design of the maps listing, users are increasingly encouraged to engage with your listing through many features, some of which are newer and less known to business owners. User engagement metrics are part of how the value of your listing is determined. All of this is taking place outside of your website in a separate channel, so it can be easy to overlook this important source of traffic. For these reasons it's valuable to know how to optimize your business listing, what factors can impact your local rankings, how to utilize the features available to you and to understand how to gain insights into how this extension of your business is performing.
Best practices for improving local rankings:
Google My Business
Firstly, you need to claim and verify your business listing. Google has created a portal to help facilitate the management of your business listings called Google my Business. It's this tool that we will focus on for opportunities to improve the optimization of your listing along with some of the key features that are available to you.
Google my Business is where you manage your listing in Google maps. You can claim your existing listing or create a new one if the business does not exist. Claiming and building out the Google Business listing is the starting point for performing well in local search.
Once you have verified ownership, you can add your business hours, add categories of services, photos, manage your reviews and even post updates about your business.
There is a built-in reporting feature called Insights. This provides you with a variety of insights into how your maps listing performs. Google has expanded this feature and the data has become more robust.
On page optimization
In addition to having your Google profile claimed and updated, having an optimized landing page on your website creates the foundation for driving local searches.
This should be optimized for your local city and state, which includes an optimized page title and URL and have content specific to your local area.
The landing page should contain a link to your maps listing. Having a link between your landing page and the Google business listing helps tie the two together and creates a connection between the two in Google.
It's recommended to have your address on the pages, with local schema markup. The address should exactly match the one used in the Google listing.
Local citations
Your business information is posted across the web through a network of websites and aggregators. These range from the well-known sites like Yelp, Yellow pages, Superpages, Mapquest, and Google Business to less known local local directories. These citations help to build the overall authority of your location and the number, quality and accuracy are considered to influence rankings. It's important for your name, address and phone number to remain consistent and correct across all these listings. You want to own and maintain as many of these as possible.
In addition to the core listing that you manage through Google My Business, there are data sources which feed out the listing to all these providers. You can create accounts and manage these manually through the various providers or you can use one of the many providers that allows you to manage these all through one portal. These are typically a paid service, but do offer you the benefits of reporting, tracking and monitoring your listing. Having your local citations listed across the web with the correct and consistent information is considered one the primary ways you can improve the authority of your listing.
It's suggested that you familiarize yourself with the Local Search Ecosystem and to determine how you want to manage your listings with the data providers.
Google maps features you should be using
Reviews
Ensure you are encouraging reviews on Google. This should be at the core of your strategy for local rankings. Ask your customers for reviews and provide an easy way to for them to leave a review. Google has made it easy to link to the leave a review feature and you should be using this on your local landing page.
Respond to reviews. You should be responding to all reviews, both positive and negative. Customers expect a response and users reading reviews see this a signal of direct engagement with the company. As a signal of how important Google sees the importance of responding to reviews, Google announced in May that they will email notifications to consumers when a business responds to their review.
Photos
The Google Business portal provides statistics on the number of photos you have compared to other industry sites. In addition, you can see metrics on photo views through the insights report. Google also give you the opportunity to sort photos based on interior, exterior and staff and cover photos.
This indicates that Google emphasizes the value of photos to users and is encouraging you to use photos.
You should have a variety of photos, including staff, interior shots and exterior shots. Even though you can request what you want to use as a cover photo, Google will determine what they see as the best cover photo. Our testing shows that Google prefers action-oriented shots with staff and interiors as the cover photo. In our experience, heavily branded cover photos that feature the business logo will not be shown as the selected cover photo and Google will typically select a shot with people and interiors as the cover photo.
Ensuring your photos are up to date, new ones are added regularly, and that these include staff and interior shots are one way to optimize your listing and encourage interaction, which can influence rankings.
FAQs
A relatively new feature in the Google listing, the "Questions & Answers" section allows users to quickly ask the community questions about the business. Anyone can answer, including other users and the business owner. The Q&A section appears within the knowledge panel when a user searches for your business.
It's important to know this feature exists and to be ready to respond. This also gives you insights into what people want to know about your business.
You can be proactive and add your own questions to the listing.
Details on the FAQ are not integrated into the Google Business dashboard yet. These are done through the knowledge graph only, which means that you will need to monitor this for new questions. It's important to note that the answers from the community may be incorrect, and through monitoring this you have the chance to provide the correct information.
Google Posts
Google posts are a feature that was released, which gives you a way to make announcements about the business. Google has been integrated into the GMB dashboard and can feature a photo and a button link to the website. These posts appear in the knowledge graph panel.
Google has been expanding what you can do with posts and now allows you to post video, images, events, products and services and covers basically any type of announcement including sales and offers. These can include a variety of CTA's including links to appointment pages. They are ideal for use to call attention to sales, promotions, or to announce a unique offer or services. They are designed to create engagement with the brand and are not ranked for keywords.
The Google post dashboard in Google my Business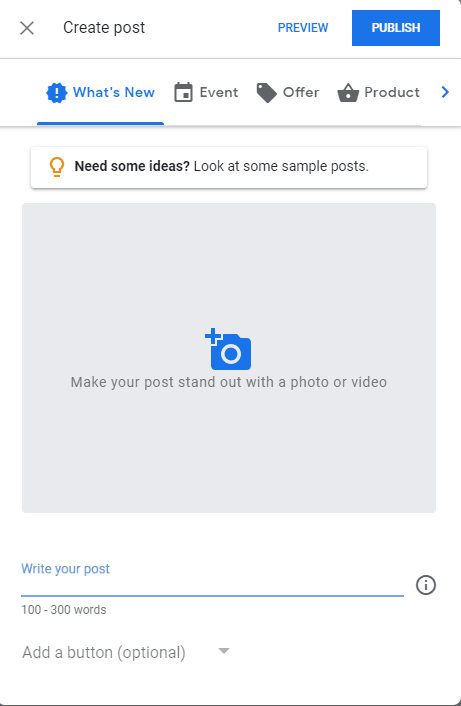 Additional considerations for local search
These are only a few of the top ways that you can help improve and maximize your local listing. These factors represent a short overview of the ways you can work on local ranking improvements. A myriad of issues can present themselves, including loss of ownership, duplicate listings, managing citations, low organic authority, changes in locations, changes in brand names, management of large numbers of locations and more. Fruition specializes in identifying and improving local rankings. We can identify key areas that need attention or may be causing an issue with ranking. From developing strategies to help with improving reviews, ensuring your onsite optimization is proper, working on developing organic local authority, managing and building local citations, to reclaiming lost ownership of accounts, we can help solve your most troublesome local issues. All while providing you with sound advice on utilizing the most recent and effective tools and techniques that will make an impact in today's local search factors. If you are in need of help with improving local search, contact us today to discuss how you can rank higher.